Mycorrhizae Biofertilizer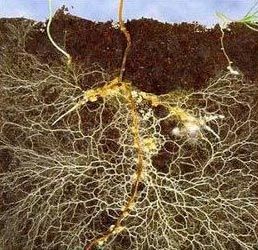 | | |
| --- | --- |
| Business Type | Manufacturer, Supplier, Retailer, Wholesaler |
Mycorrhizae helps in plant growth as it contains humic, sea weed and vitamins. It also comprises of glomus, intraradics, glomus aggregatum, glomus etunigatum and glomus mossaea. The formulation of Amrit Mycorrhizae is done using the latest techniques under the strict vigilance of experts. When it comes to delivery, we make all arrangements for quick shipment of Amrit Mycorrhizae. It can be obtained from us in small as well as bulk quantities.
Why Mycorrhizal
Roots with mycorrhizae spread over the available space in the soil more rapidly.

Reduce watering and save water because they provide more surface area to absorb water

Enhance the capacity to absorb nutrients from the soil

Increase phosphorous absorption

Improve soil structure and prevent erosion

Synthesize biologically active substances like vitamins, nicotinic acid, indole acetic acid gibberellins, which help plants in better growth.

Encourages better germination, early emergence and better root development
Application
Nursery Application : In nursery bags of seedlings, use about 25 grams of Amrit VAM inoculum.

Pit application : Mix about 50 g of Amrit VAM with 500 grams of compost and fill in the pits before planting. After Planting, mix about 50 grams with 500 grams of compost and apply in basins around the plants/Trees.

Field Application : For field crops like Tomato, Brinjal, Onion, etc. mix about 20 kilograms of Amrit VAM incolumn with 100 kilograms of compost and broadcast in the field.

Soil Application : Mix 5 to 15 kg Amrit VAM with 100 kg soil or compost and broadcast it over one hectare of land.
Read More...
Looking for "
Mycorrhizae Biofertilizer

" ?